Dr. Judith Shea describes her journey to concierge medicine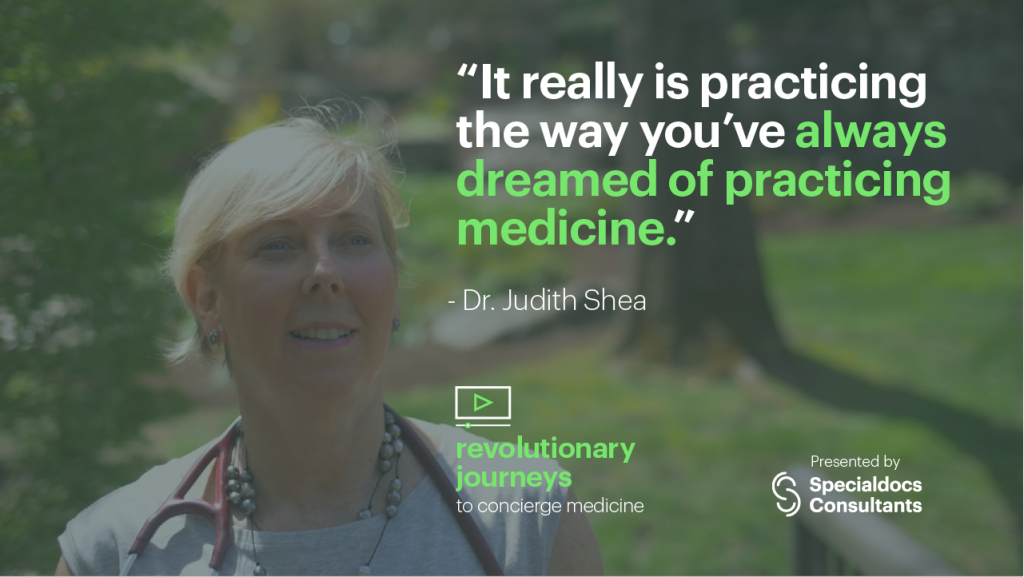 Dr. Judith Shea, an internal medicine physician in Greenwich, Connecticut says she hit her breaking point after years of working late into the night trying to care for her overwhelming patient load and worrying that she was going to miss something important.
Realizing something had to change, she and the other physicians in her practice group decided that they needed to transition their practice to a concierge model in order to spend the time necessary to properly care for their patients.
In 2015, Dr. Shea and her partners enlisted Specialdocs Consultants to support them in forming Glenville Medical Concierge Care, a highly successful concierge-model practice in Greenwich. Dr. Shea says concierge medicine allows her to practice medicine the way she's always dreamed. She adds that Specialdocs is a critical part of the practice team and "feels like part of the office."
Now Dr. Shea says, "I can do this for as long as my brain and physical body will allow me to do it which is really kind of a cool thing."
Watch Dr. Shea's full story below.
Revolutionary Journeys to Concierge Medicine is a video series, presented by Specialdocs Consultants, depicting the paths of physicians who've transitioned from traditional practice to a concierge model practice. In their own words, the physicians illustrate the continuing challenges of the traditional practice model and how they were able to make a successful transition to concierge medicine.
The post Dr. Judith Shea describes her journey to concierge medicine appeared first on Specialdocs Consultants.
For more information on the benefits of Concierge Medicine, please visit Concierge Medicine of Buckhead. To enroll as a new patient, please call us directly at (768) 883-5111. Current patients with any health concerns, should call Dr. Harrigan's office directly at (404) 355-7055. Thank you!