Dr. Juliet Asher describes her journey to concierge medicine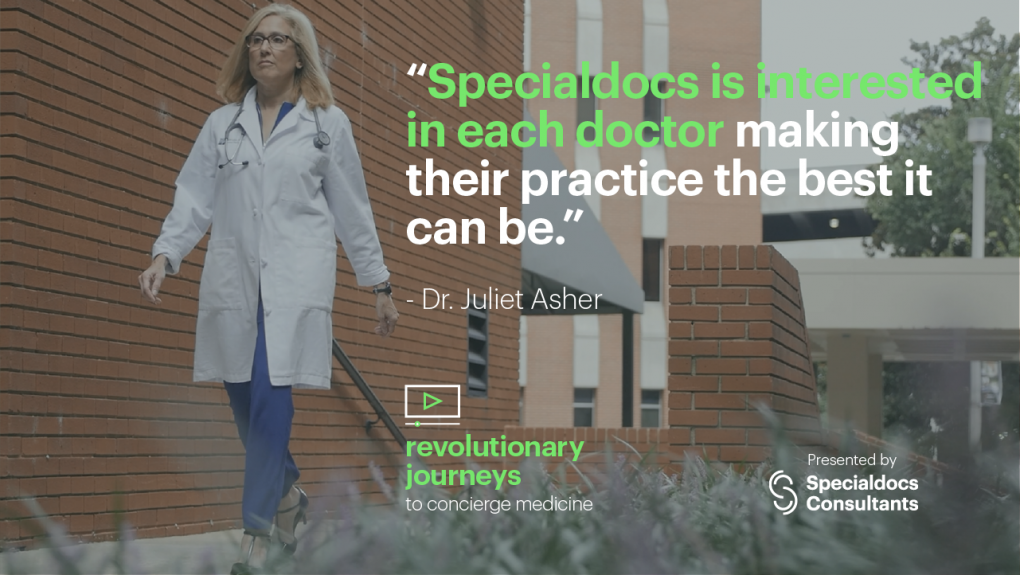 Dr. Juliet Asher, an internal medicine physician in Atlanta, Georgia, has been practicing medicine for over 25 years. But by 2017, the demands of her growing patient panel and growing family pushed her to the point that she didn't feel like she had the time or energy to do anything well. After much research, she concluded that the only way to continue practicing medicine and give her patients and family the time and care they deserved was to launch a concierge-model practice. 
Dr. Asher says her transition to working with Specialdocs Consultants was "a lifesaver." She loves practicing medicine and "that is what becoming a concierge physician has allowed [her] to continue to do."
Watch Dr. Asher's full story below.
Revolutionary Journeys to Concierge Medicine is a video series, presented by Specialdocs Consultants, depicting the paths of physicians who've transitioned from traditional practice to a concierge model practice. In their own words, the physicians illustrate the continuing challenges of the traditional practice model and how they were able to make a successful transition to concierge medicine.
The post Dr. Juliet Asher describes her journey to concierge medicine appeared first on Specialdocs Consultants.
For more information on the benefits of Concierge Medicine, please visit Concierge Medicine of Buckhead. To enroll as a new patient, please call us directly at (768) 883-5111. Current patients with any health concerns, should call Dr. Harrigan's office directly at (404) 355-7055. Thank you!