Dr. Larry Leibowitz describes his journey to concierge medicine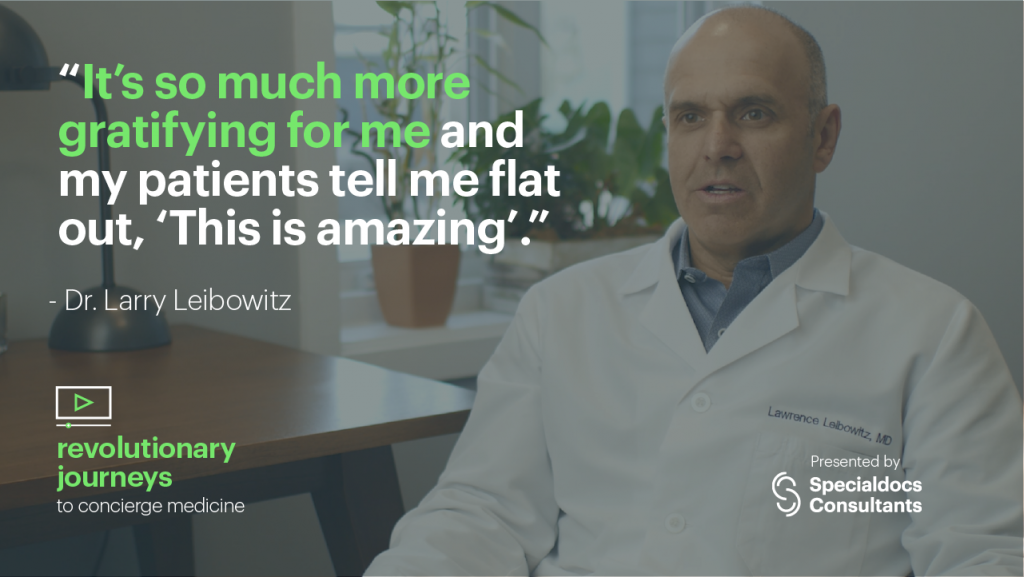 Dr. Larry Leibowitz, an internal medicine physician in New Canaan, Connecticut, once found himself stuck in a healthcare system that requires primary care physicians to see a large volume of patients to maintain a viable practice. In 2017, with the help of Specialdocs Consultants, he made a successful transition to the concierge model and hasn't looked back.
Dr. Leibowitz says he understands the reservations that other physicians may have such as the financial risk, and the question, "what if this doesn't work out?" But he says that Specialdocs Consultants eased his concerns by carefully planning the transition and taking a personal, customized approach to branding and building his practice — an approach that isn't possible in a cookie-cutter model.
He now has time to listen to his patients and provide quality care in a way he couldn't before.
"It's more gratifying for me because I feel like I am doing a better job," says Dr. Leibowitz. "My patients, I can see it in their faces and they tell me flat out 'this is amazing'."
Watch Dr. Leibowitz's full story.
Revolutionary Journeys to Concierge Medicine is a video series, presented by Specialdocs Consultants, depicting the paths of physicians who've transitioned from traditional practice to a concierge model practice. In their own words, the physicians illustrate the continuing challenges of the traditional practice model and how they were able to make a successful transition to concierge medicine.
The post Dr. Larry Leibowitz describes his journey to concierge medicine appeared first on Specialdocs Consultants.
For more information on the benefits of Concierge Medicine, please visit Concierge Medicine of Buckhead. To enroll as a new patient, please call us directly at (768) 883-5111. Current patients with any health concerns, should call Dr. Harrigan's office directly at (404) 355-7055. Thank you!