Hospitals struggle to address widespread physician burnout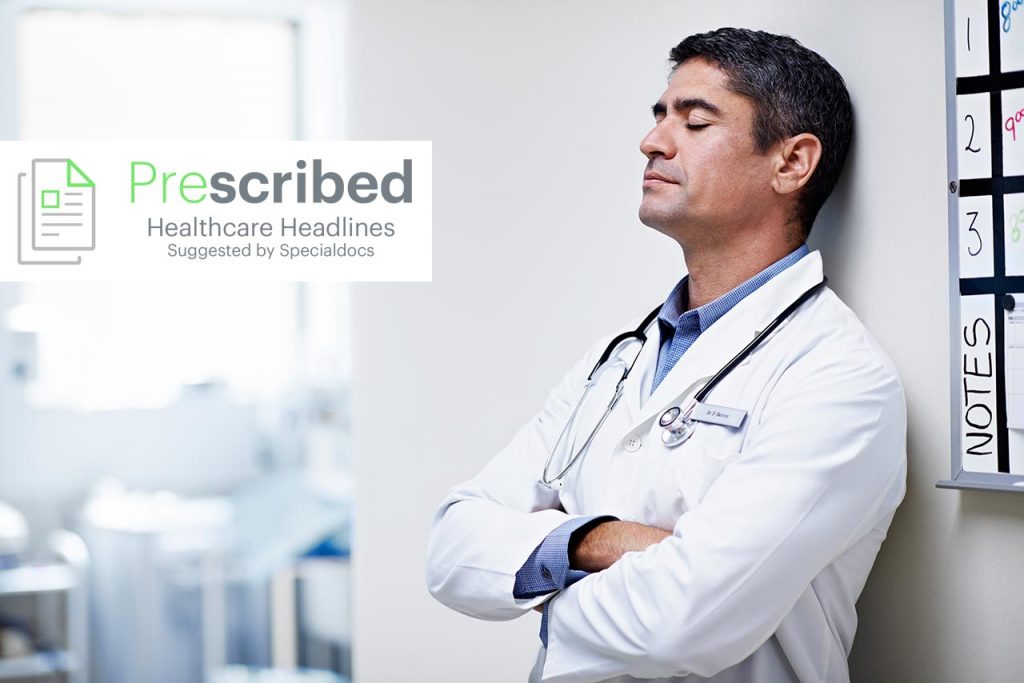 Welcome to Prescribed, our round up of recommended stories making headlines in the healthcare industry.
Report: Organizational flaws compound doctor burnout (Healthcare Dive)
New research from athenahealth found turnover is highest for physicians in their 30s, with rates close to 16%. Additionally, physicians experiencing signs of burnout are three times more likely to indicate they're going to leave their organization within three years.
It builds on earlier findings that high-performing organizations practicing "capability," a model that offers physicians the tools, resources and latitude they need to feel comfortable doing their job, experience much lower burnout rates at 27%, compared to 51%.
The latest data, gathered from a sample of more than 50,000 providers, found turnover rates are highest for primary care providers at about 14% and lowest for orthopedic and OBGYN specialties at 6.3% and 7.2%, respectively. [Full story]
Some hospitals are expanding their c-suites with the new position of chief wellness officer in order to address what experts view as a national epidemic of physician discontent.
Dr. Tait Shanafelt, the chief wellness officer of Stanford Medicine, would like hospitals to have more places where physicians can gather 'to help drive community.'
"Telling doctors to eat granola, do yoga and be more resilient isn't going to address this problem," says Tait Shanafelt, who was appointed chief wellness officer of Stanford Medicine a year ago. Instead, hospitals need to reform a system that has become debilitating to physicians—and left patients vulnerable to medical errors and even malpractice, Dr. Shanafelt says.
Other major medical centers, including Mount Sinai Health System in New York and UAB Medicine in Birmingham, Ala., have appointed chief wellness officers. Johns Hopkins Medicine in Baltimore hopes to hire one this year.
But fundamental problems that are the leading factors still remain. [Full story, subscription required]
The Core Beliefs Held By Each Sector Are Likely To Be Tested [The Keckley Report]
On the 242nd anniversary of our country's founding this week, I find myself pondering our future as a democracy, the role the U.S. will play in the world, and how the healthcare system will evolve.
Media speculation about the replacement of Justice Kennedy on the Supreme Court, growing public alarm about gun violence and opioid addiction in our society, and the lack of civility in our political discourse are palpable indications that our Republic is under stress.
Similarly, the healthcare industry is under stress and in the spotlight. [Full story]
Is the Independent Doctor Disappearing? [U.S. News & World Report]
It's no secret that over the past several years, America has been experiencing a seismic shift in the way health care is delivered. From government insurance mandates and changes to health insurance design to new reporting requirements, escalating costs and the rise of urgent care clinics, the health care picture has shifted dramatically. And it seems the independent family medicine practitioner is getting squeezed as a result.
Dr. Linda Girgis, a primary care physician in private practice in South River, New Jersey, says "it's getting harder and harder [to stay in private practice] all the time. I think we're in an area where there's a shortage of primary care doctors, so I think that's helping keep the patients coming. But we find we're working more hours and bringing more work home. It's definitely becoming a big burden to keep the doors open." [Full story]
The post Hospitals struggle to address widespread physician burnout appeared first on Specialdocs Consultants.
For more information on the benefits of Concierge Medicine, please visit Concierge Medicine of Buckhead. To enroll as a new patient, please call us directly at (768) 883-5111. Current patients with any health concerns, should call Dr. Harrigan's office directly at (404) 355-7055. Thank you!