How Physicians are Finding a Lifeline in Concierge Medicine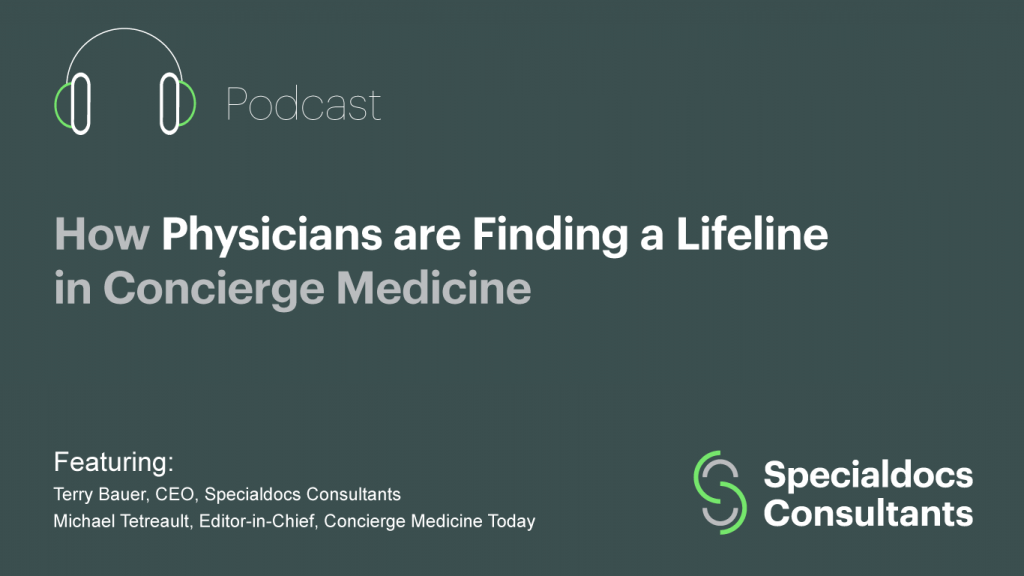 Specialdocs CEO Terry Bauer reveals how primary care physicians are recapturing their mission
Why are more physicians turning to concierge medicine than ever before? Who benefits most from the model – physician or patients? What is the single most important factor that predicts success for a concierge physician?
Terry Bauer, CEO of pioneering concierge medicine transition firm Specialdocs Consultants, provides answers in a wide-ranging discussion for the DocPreneur Podcast series, the audio touchpoint of trade publication Concierge Medicine Today (CMT). A long-time believer in the power of concierge medicine to help repair a broken healthcare system, Bauer discusses the industry with Michael Tetreault, DocPreneur Podcast Host and Editor-in-Chief of Concierge Medicine Today.
"After years of shrinking reimbursements, truncated office visits and mounting regulations, physicians have been left with few satisfying choices to pursue their calling," says Bauer. "The sheer impossibility of being able to offer quality care in a volume-driven environment is why increasing numbers of physicians view concierge medicine as a career-and-life-saving measure."
Bauer explains, "I've witnessed firsthand how a membership practice provides a path for physicians to thrive and benefits their patients with more in-depth care."
However, Bauer cautions, it's not the right model for everyone. Before electing to work with a physician, Specialdocs conducts a thorough evaluation, considering factors such as years practicing in the community and professional reputation. Most important is the response to the question, "Why do you want to make this change?"
"If the answer is about making more money, that's a red flag for us," Bauer reveals to Tetreault. "The primary motivation voiced by our successful clients is the ability to provide the best medicine possible. The physician most likely to succeed is the one who says 'I'm seeing 30 patients a day, what worries me most is that if I had more time, asked more questions, could I have learned something that would help me make a better diagnosis?'"
The misperception that concierge medicine is driven by physicians focused on increased revenues by treating only the super wealthy has unjustly dogged the industry for years, says Bauer.
"Concierge doctors charging fees of $20,000 a year make headlines, but it's more affordable than commonly reported. The average annual fee is $2,000 – equivalent to most people's cable bill," says Bauer.
Bauer and Tetreault also produce other "lightbulb" moments, such as why insurers are getting on board and a bold prediction for the future.
"We created our DocPreneur series to highlight the wisdom of innovative thought leaders," says Tetreault. "In this interview with Terry, he reveals what it takes to be successful in Concierge Medicine. Physicians who have been curious about this concept and wondering what their next move is should lean in and listen to what Terry and his colleagues have to say."
Related links:
The post How Physicians are Finding a Lifeline in Concierge Medicine appeared first on Specialdocs Consultants.
For more information on the benefits of Concierge Medicine, please visit Concierge Medicine of Buckhead. To enroll as a new patient, please call us directly at (768) 883-5111. Current patients with any health concerns, should call Dr. Harrigan's office directly at (404) 355-7055. Thank you!