Physician burnout costs industry $4.6B annually, study says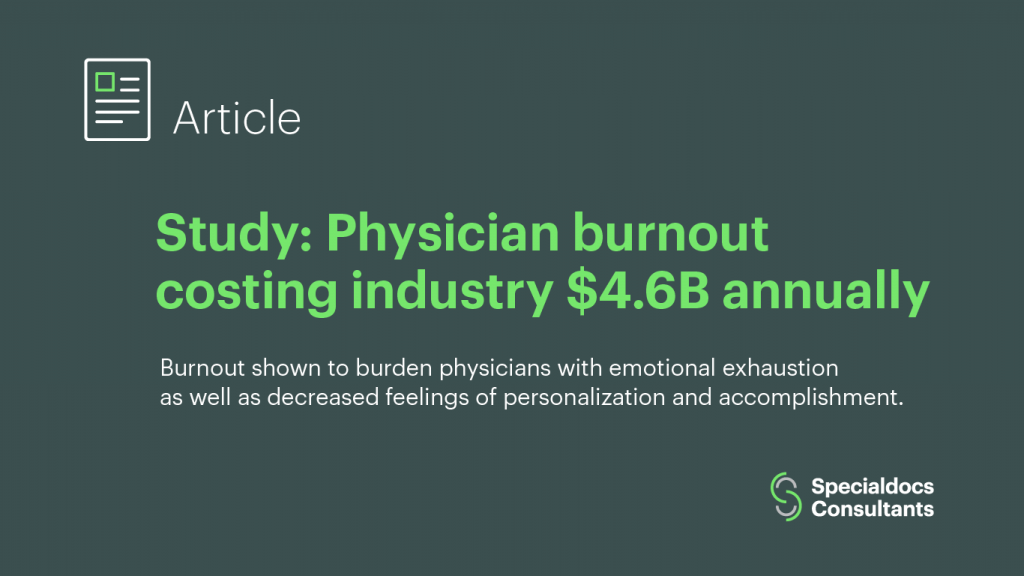 According to a new study published in the Annals of Internal Medicine, physician burnout is costing the healthcare industry between $2.6 billion and $6.3 billion annually. The researchers calculated a baseline of about $4.6 billion in costs from turnover, reduced productivity and other burnout-related factors.
The negative effects of physician burnout are even more apparent through worsening clinician well-being and work-life balance, heightened administrative loads and poorer quality of care for patients. The burnout burden has been shown to result in a sense of decreased personalization, a lower feeling of accomplishment and emotional exhaustion for the physician.
"Rampant consolidation causing upheaval in practice structure and routines, the increasing prevalence of EHRs that can drain doctors' time and energy and take focus away from the patient, bureaucratic demands like charting and paperwork, and policy regulations and legislative changes creating more red tape for clinicians are all contributing elements," writes Rebecca Pifer at Heathcare Dive.
This new study adds to the evidence that burnout is not just damaging to physicians and patients — it's also hard on a practice's bottom line. And the $4.6 billion price tag didn't take into account the many burnout-related costs that are harder to quantify like indirect lost revenue, loss of reputation, disruption to patients and the care team or less favorable contracting with payers, researchers say.
Specialdocs Consultants CEO Terry Bauer recently wrote on the topic of physician burnout, saying, "I've seen firsthand how burnout affects physicians, especially the most committed ones, to the point that they're reconsidering their life's calling and considering leaving the profession altogether.
The doctors are endlessly frustrated over the type of care they're able to provide, and constantly dogged by the feeling that something important was missed in their cursory visits. It keeps dedicated physicians up at night, headed for burnout territory, but unwilling to compromise on quality of care. Their frustration and fear is palpable."
Bauer says that the concierge practice model offers these physicians a viable and undeniably transformative solution that enables them to care for patients as they'd always envisioned.
"As many of our clients have conveyed, the Specialdocs' concierge model – autonomous, independent, unfettered by restrictions – allows them to practice the best medicine of their career," says Bauer.
The post Physician burnout costs industry $4.6B annually, study says appeared first on Specialdocs Consultants.
For more information on the benefits of Concierge Medicine, please visit Concierge Medicine of Buckhead. To enroll as a new patient, please call us directly at (768) 883-5111. Current patients with any health concerns, should call Dr. Harrigan's office directly at (404) 355-7055. Thank you!