Webinar: How the Concierge Model Remains Resilient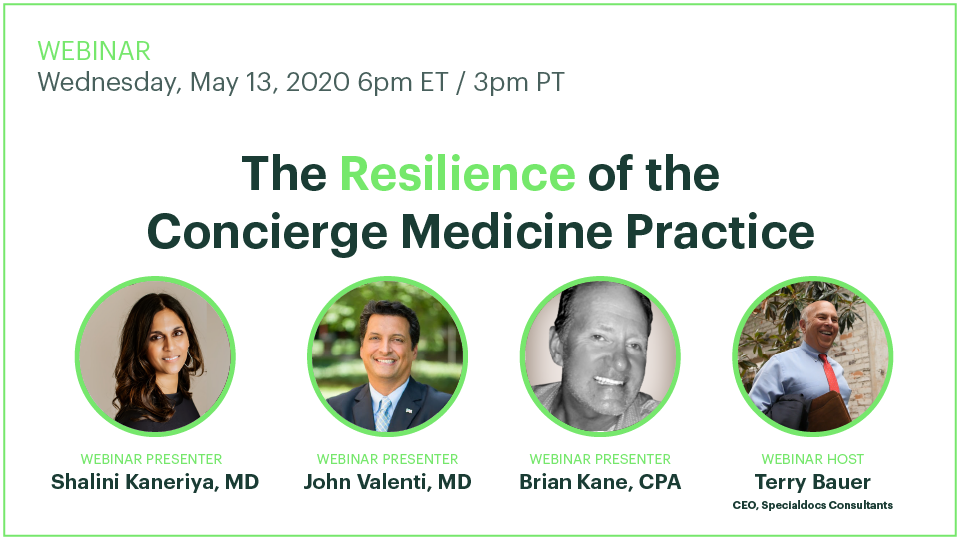 For physicians committed to their independence, the COVID-19 crisis has been a pressure test, starkly revealing the weaknesses and vulnerabilities of traditional practices.
The pandemic has also served as a genuine catalyst for change, providing physicians with a compelling reason to consider the professionally fulfilling and economically sustainable alternative of concierge medicine.
Specialdocs Consultants and Medical Economics have teamed up to present an informative webinar where you can learn how the financial, clinical and operational hallmarks of a concierge practice are key to its resilience during COVID-19 and healthcare reform…and why the model is strong enough to withstand other challenges yet to come in a constantly evolving healthcare system.
This fast-moving discussion includes:
Concierge physicians Shalini Kaneriya, MD, and John Valenti, MD, who share their personal journeys of change to the membership medicine model, and how their practices continue to sustain during the pandemic.
Brian Kane, CPA, founder of BJ Kane & Co., a financial advisor who specializes in setting up efficient and profitable private practices for physician clients.
Terry Bauer, CEO of Specialdocs Consultants, a pioneer in transitioning and supporting successful concierge practices nationwide for almost two decades.
The post Webinar: How the Concierge Model Remains Resilient appeared first on Specialdocs Consultants.
For more information on the benefits of Concierge Medicine, please visit Concierge Medicine of Buckhead. To enroll as a new patient, please call us directly at (768) 883-5111. Current patients with any health concerns, should call Dr. Harrigan's office directly at (404) 355-7055. Thank you!